CELEBRATING BLACK HISTORY MONTH
WHEN AFRICA RULED EMPIRES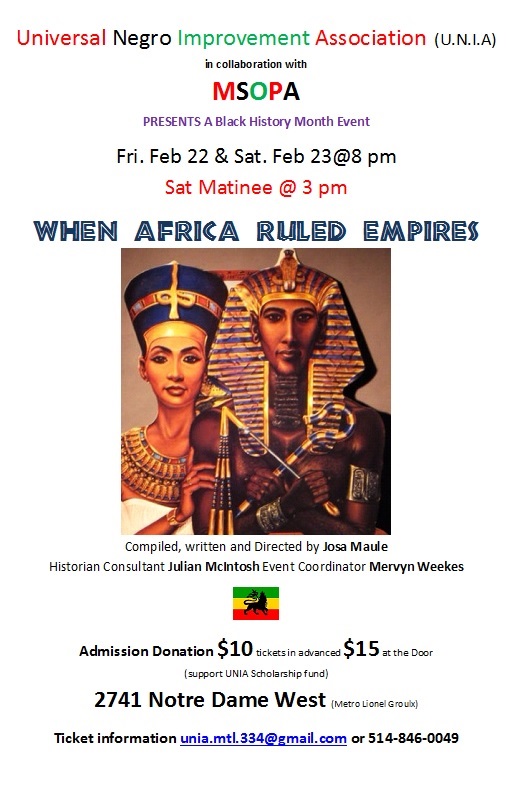 Celebrating Black History
United Negro Improvement Association (UNIA)
in Collaboration with MSOPA
When Africa Ruled Empires
Written and Directed by Josa Maule
Collaborated with Julian Macintosh
DATES: Friday Feb 22nd & Saturday Feb 23rd
 TIME: Fri. Feb 22 & Sat. Feb 23@ 8 pm, Sat Matinee @ 3 pm
LOCATION: UNIA, 2741 Notre Dame West
ADMISSION: $10.00
Tickets can be purchased by emailing tickets.unia@gmail.com  moc.l1550792520iamg@1550792520433.l1550792520tm.ai1550792520nu1550792520  
or 514-846-0049
Intimate venue accommodates a small crowd, limited seating is available.
When Africa Ruled Empires focuses on positive aspects in Black History. Through various monologues and scenes based on historical facts, it explores how Black people were the forefathers of all mankind) with over 200,000 thousand years of culture. and civilization. 
UNIA presents a show each year for Black History Month to raise funds for their Scholarship Program. Now in their third year, they are once again proud to collaborate with director Josa Maule and her school (MSOPA) which has been serving Montreal's acting community for 27 years.
365 days a year, Black History is Everyone's History. We thank you for your continued support and contributions which make it possible for UNIA to remain a valuable and respected part of the Montreal community. For more information or to purchase tickets please contact moc.l1550792520iamg@1550792520433.l1550792520tm.ai1550792520nu1550792520 or 514-846-0049.