2019 SCHEDULE – Apr – May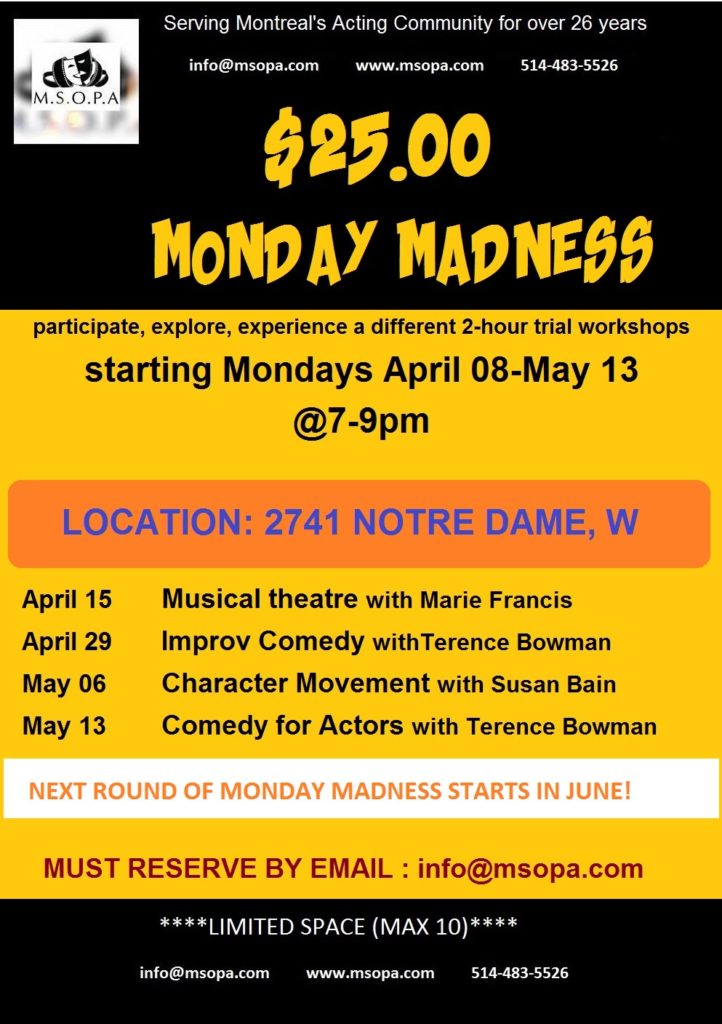 ***Dates subject to change***

FOUNDATION I – 7 weeks – 20 hrs Cost: $350
Great for beginners or actors who are looking to explore different approaches to acting and honing their skills.
Tuesday April 23 – June 04 @ 7-10 or Wed May 22- July 03 @ 7-10
FOUNDATION 2 – 8 weeks – 24 hrs Cost: $420
(Pre-requisite Foundation 1)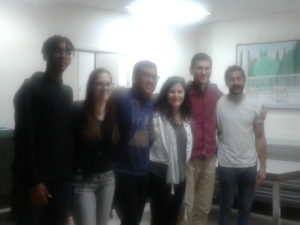 June 12- JULY 31 @ 7-10
Student will work on contemporary scenes for Film, TV or Stage, utilizing imagination, breaking down the thought process behind the lines, improving on emotions and intuition.
Phase I Character development – 9 weeks – 26 hrs Cost: 455.00
With Josa Maule & Speciality Guests Movement & voice
Wednesdays May 22- June 17 th @ 7-10
LOCATION: 2741 NOTRE DAME, W
Phase I grows out of the Foundation courses. Technique will become more specific as students continue to develop an initial set of acting skills and tools. The techniques introduced in the Foundation courses will be applied and built upon, and increased emphasis is placed on making choices, developing character, and using the imagination. Students will choose a historical figure, all of whom had died before the year 2000.
Students are encouraged to begin thinking independently, creating an individual work ethic which allows them to grow as self-motivated actors.
The last class, MSOPA will host a Mocktail party, the first part of the evening the actors will mingle with an invited audience from the acting community in an improvisational setting. Followed by the presentation of your written monologues, and then ending the evening with a Q and A period.
Limited space 12 students max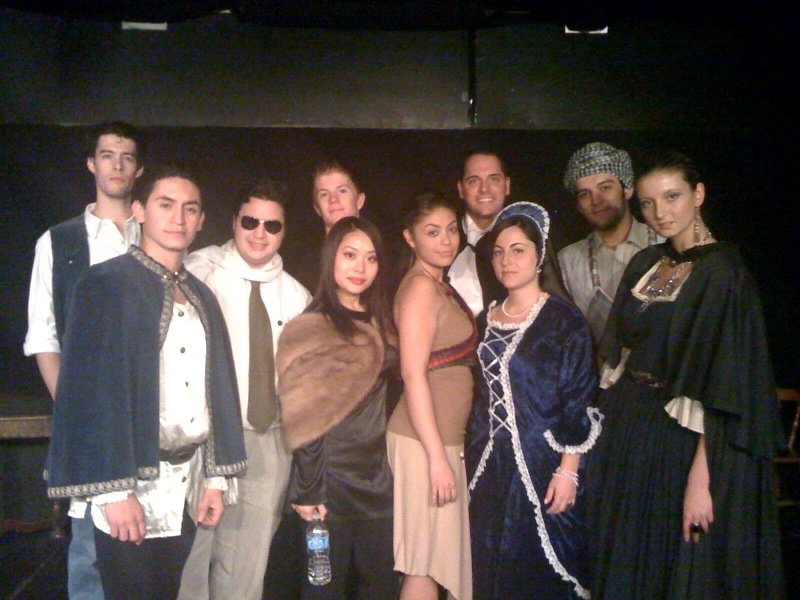 JUST SCENES WITH JOSA MAULE– 4 weeks – 8 hrs Cost: $150
(Pre-requisite a recent (6 months) formal Acting workshop )
Tuesdays April 30- May 14 @7-9 pm
This class is perfect for the actor who wants to REFINE THEIR AUDITIONING SKILLS from A Casting Director Prospective or who has been away from the craft for a while.
LIMITED SPACE
***MUST REGISTER BEFORE APRIL 26TH****
LOCATION: 2741 NOTRE DAME WEST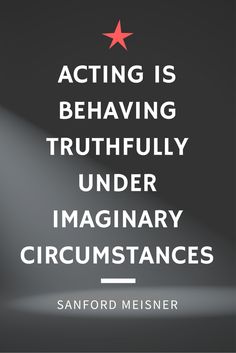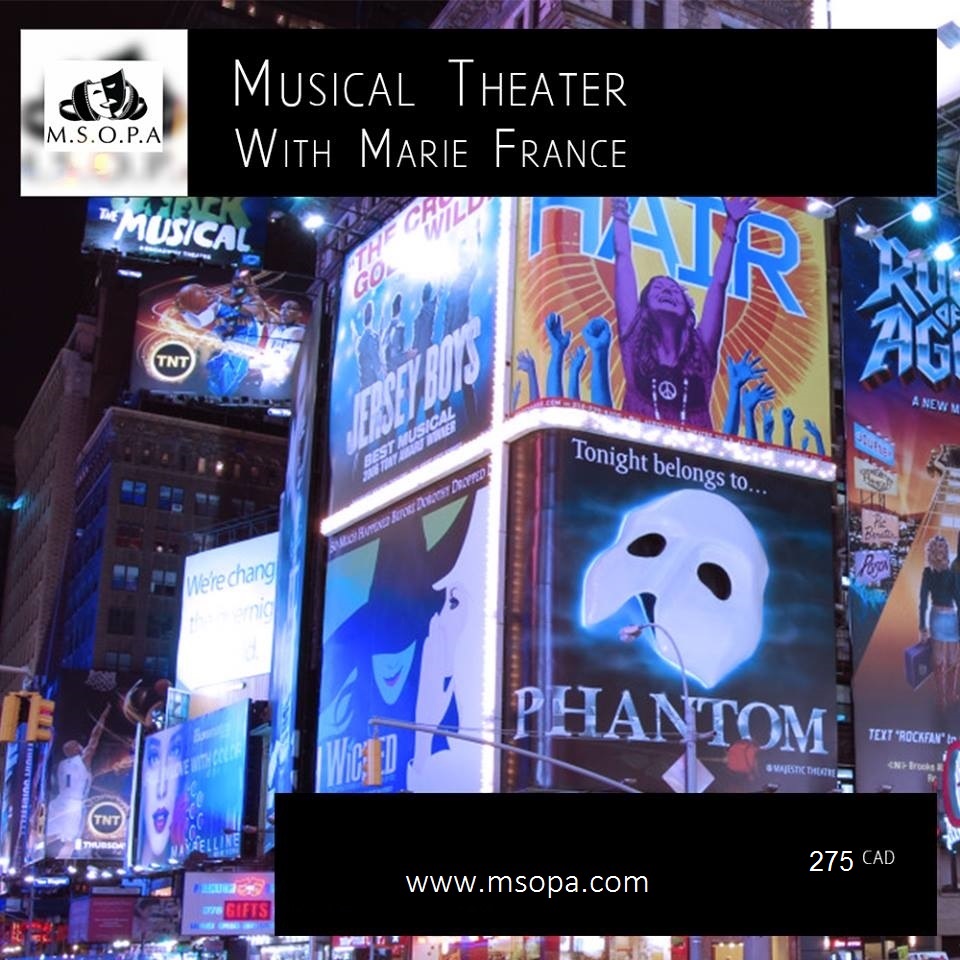 INTRO TO MUSICAL THEATRE with Marie Francis 5 weeks-15 hrs Cost: 275
TBA: MONDAYS 630-930 PM
Introducing you to basic vocal and diction techniques. students will be exposed to proper vocal technique, diction, basic acting for singers and movement. Students are required to come to class prepared to sing a song. Each class will have an accompanist to play along in order to give the proper vocal experience. Recital of the student's work will be presented in the final class.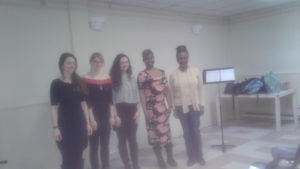 Location: UNIA 2741 Notre Dame W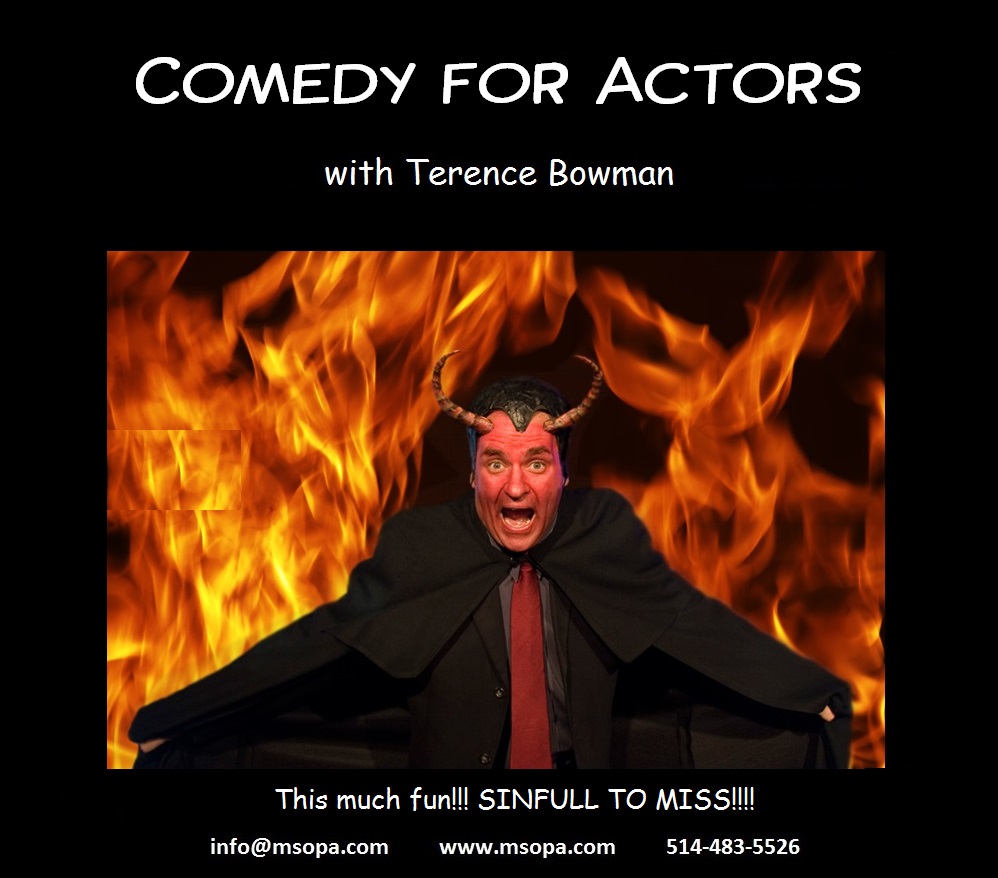 COMEDY FOR ACTORS with Terence Bowman 4 wks – 8 hrs Cost: 150.00
TBA
Comedy for actors is a specialised course for those with previous acting or performance experience to acquire and/or brush up on the craft of comedic acting. The course will focus on a variety of specific comedy performances skills: improv comedy, sketch comedy performance and mastering comic monologues and scenes for stage and screen
VOICE OVER WITH PAULA DAVIS 8 weeks – 20 hrs Cost: $360
MONDAYS TBA
Finding your own voice, Style, Technique, Delivery Commercials (Hard Sell- Soft Sell) Corporate Narration, Cartoons, auditions, and marketing yourself. The last class students will work in a professional recording studio. They will receive various samples of their work (THIS IS NOT A DEMO).
Voice acting is a growing industry in Montreal, why not be prepared for those opportunities.
YOUNG ACTORS Summer Day-Camp
Enjoy your summer, having fun and being creative!
Singing, Movement, Improvisation, Scene Work, On Camera Work, Film Making, Voice Over,
Industry field trips & Networking Opportunities
July 31 -Aug 09 Wed – Fri and Mon-Fri @ 9:00 am – 5:00 pm
(2- 15 minute breaks & a one-hour lunch)
Cost: $530.00
****Early bird price:$450****
REGISTER BEFORE APRIL 31 , 2019
*** Discounted rates for family enrolment****
Tel: 514.483.5526 or info@msopa.com